What can autonomous
accounts payable do for you?
Sign Up
Save your spot
Tuesday, December 6
10 am PST

Save your spot
Tuesday, December 6
10 am PST

If you're still relying on manual invoice processing or OCR automation, it's time for an upgrade!
In this webinar, Imran Gohar, Sr. Solutions Consultant gives you an inside look into AppZen Autonomous AP and why one-third of Fortune 500 companies trust our AI. He'll specifically show its ability to:
easily extract header and line-level data,

accurately code invoices,

process both PO & non-PO backed invoices,

check for duplicate spend across invoices, expenses & cards,

and more, autonomously!
AppZen's Autonomous AP can:
Process your invoices end-to-end with 100% accuracy without any templates,

Process 80% of your invoices without manual work – without you ever touching them,

Make complex decisions for you (e.g. PO-line matching based on line context, unique GL coding based on supplier and invoice data)

Integrate directly with your current ERP and P2P solution for touchless invoice processing,
Register today and find out what Autonomous Accounts Payable can do for you!
Speakers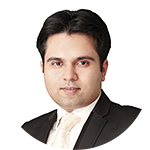 Imran Gohar
Sr. Solutions Consultant, EMEA
AppZen