COFFEE WITH AN EXPERT SERIES
Stop touching those invoices
Episode 01: Thursday, March 23rd at 10:00 am PT
Sign Up
Not all invoice processing solutions are created equal.
After all, is your current solution really "automated" if it requires you to monitor your AP inbox, separate out invoices, and confirm all captured data is correct, wasting hours of your day?
Grab a cup of coffee and join our new expert series with Peter Kosovec, Senior Solutions Consultant at AppZen. He'll explain our autonomous ingestion process that allows you to remove steps, save time, and stop touching invoices in your AP process workflow. Our AI confidently and accurately automates the capture of 100% of your data without rules or vendor templates.
You'll learn:
How to easily set up an AP inbox with AI that immediately starts capturing invoice data with guaranteed accuracy
How to eliminate manual, repetitive tasks like monitoring your AP inbox, downloading attachments, and separating out invoices
How to quickly and easily process electronic and even hard-copy invoices
Bonus: Get all of your questions answered in our live Q&A
Discover how easily AppZen's AI processes invoices from start to finish with 100% confidence.
Save your spot today!
Speaker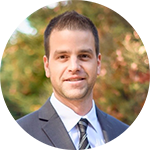 Peter Kosovec
Senior Solutions Consultant
AppZen